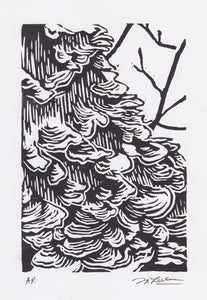 These mushrooms were growing on a tree along a trail at Algonquin Park. 
4 in x 6 in linocut illustration. Signed on the front and marked on the back with artist's chop mark. Print may vary slightly from photo as each piece is printed by hand and comes out with subtle variations in the ink transfer.
Once you place your order, please allow up to 2 – 3 weeks for delivery (time for me to make your print, let it dry, package, and ship).