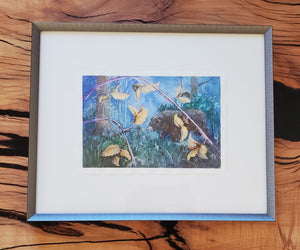 This original mixed media illustration uses watercolour, coloured pencil, and pen to capture the textures and biodiversity of the natural world. This piece is professionally framed and ready to hang. 
Frame dimensions: 16.5" x 13.5"
Artwork dimensions: 10.25" x 7" 

To ensure the longevity of this work, it is recommended that you not keep the art where it will be in direct sunlight as this may cause pigments to fade over time, OR, ask a framer about UV protective glass.